Only 75 Will Ever Be Sold
*Sold Out*
Note: This set was originally released at YummyPLR.com our sister site. So more than 75 people total will have access to it.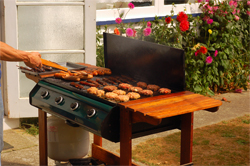 Order Now and You'll Receive these Private Label Rights (PLR) Recipes:
Marvelous Meat Munchers
Simple Oysters in the Shell
Grilled Meatloaves
Backyard Sausage Rolls
Marinate My Chicken Livers with Pomegranate
Buttery Lemon Herb Shrimp Bites
Lemon and Fennel Marinated Bass
Li'l Lamb Kabobs
Buttered Up Cornish Hens
Heavenly Meatballs with Dipping Sauce
Grilled Mustard Chops
Peachy Keen Spicy Pork Strips
A Sunday Brunch Delight
South of the Border Grilled Burritos
Football Brats
Finger Lickin' Apple Cider Ribs
Not Your Everyday Ruben
Bacon Mushroom Lettuce Wraps
Sweet and Spicy Turkey Breast
Spicy Salsa Chicken Drummers
A Touch of Mint Chicken Grillers
Asian Herb Chicken Dippers
BBQ Leg Quarters Mamma's Style
Mushroom Ham Snackers
Balsamic Glazed Grilled Scallops
Not Sponge Bob's Crabby Patties
Hungry Man Fiery Steaks
Beyond the Burger Tacos
Rib Roast with Gusto
Plum Basted Sesame Tenderloin
Sorry, we are *Sold Out*.
Click here to grab our other PLR before it's gone, too!